You Want Fruit? We've Got Trees, Vines, Bushes & Plants!
How Sweet It Is!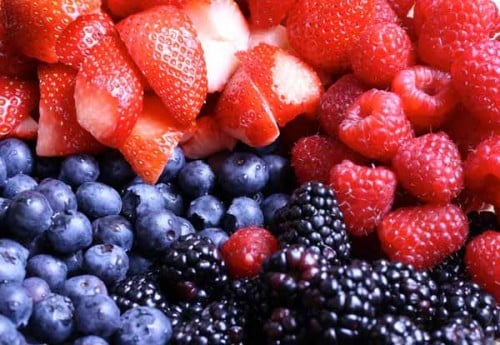 Fruits in your yard and garden have never been easier with the amazing choices available at Beaver Bark, starting in the early spring, which is tree planting time! We also offer fruiting shrubs, vines, and garden plants. Most are great for our climate, others have hardy varieties, and all are delicious! We offer a huge selection for your sweet-tooth!
Berries
Beaver Bark carries all ranges of berries, in many varieties. Strawberries, raspberries, huckleberries, blackberries and of course, blueberries are here, starting in early spring, and most are available throughout the summer and into fall. We even have goji berries! Last year we added a new superfruit, haskap berries, which were a major hit!
Melons
Watermelon, honeydew and cantaloupe are available as plants, as well as their seeds. Look for starter plants in spring, but the seeds are here any time at all. Nothing beats a freshly picked melon!
Great Grapes
If you didn't know, this is wine country! We offer a large, delicious selection of grapes. A sampling of our white grapes include Niagara, Thompson and Himrod, and for reds, we have many including Canadice, Flame and Catawba. Some are great table grapes, good for preserves and raisin-making, others make better wines. Ask our staff for help in picking what will work best for you.
Citrus
Each year we get dwarf citrus trees and they are absolutely adorable, and great for placing outdoors for our growing season! They're container trees, so bringing them in when it gets cold will be a snap! You can pick fresh lemons or limes right from your patio! Fresh lemonade, anyone?
Trees
When you think of Washington, you think of apples. Well, sometimes. Other times you think of cherries, pears, peaches, and plums. We carry a variety of fruit trees starting in spring, which incidentally is a great time to plant them, and we're here to help you decide what trees can be incorporated into your yard.
And Now For Something Completely Different…
You are the individualist, the one who needs to live on the edge. We have fruiting plants for that need too! How about hardy kiwi, or pineapple ground cherries (which is really a tomato, but tastes like pineapple)? We offer several varieties of figs, and pink blueberries, as well as goji and haskap berries. Ever try a gooseberry? You can grow your own, easily! Just check it out, starting in the spring.