These Plants Do All The Heavy Lifting!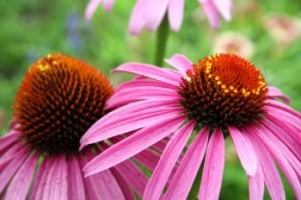 Herbaceous perennials bring an astounding medley of color, size, texture, foliage, and scent, among others. Their hardy and carefree personality make them a great place to start for the gardener who is just starting to get their feet muddy. Most of the perennial varieties we offer do well in our Tri-Cities climate, and many offer great heat and drought tolerance once established.
Sun Lovers
Sun-loving perennials add energy and excitement with hardy vigor to brighten your garden, year after year! The plants we carry will thrive in the sunny spots of your landscape, may of which are bred for drought resistance.
Blooming Shade Lovers
You'll find a lovely variety of flowering perennials that grow in shade here at Beaver Bark. Like any other perennial, shade-tolerant varieties are planted once and come back with lovely flowers after every winter.
Shady Foliage & Groundcover
These performers take center stage under trees, along fences and under your home's overhangs. Hostas love the shade, and filling in dark, empty spots is just the ticket for groundcover like Creeping Jenny, Spurge, and Blue Moneywort.
Ornamental Grasses
Grasses add interest to a garden by adding texture and color, all while evolving through the seasons. One season brings the striking foliage of greens, yellows, and blues, and even purple and red, while some offer elegant plumes of white and pink, and later on, leaves then become a different color entirely for winter interest.