ROSES ADD ROMANCE TO ANY SETTING
A Rose, by any other name…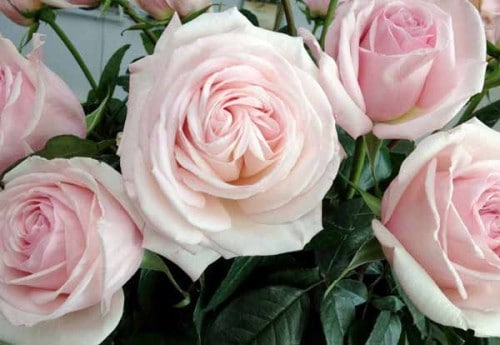 … would smell as sweet, and we think roses belong in every garden that has the room for them.
Growing roses is easier than you might think and with such a variety available, there is one for every garden situation. Whether you would like a patio rose, climbing rose or one of the huge grandiflora roses, we have rose that suit your desires. Because roses are all about desire, aren't they?
Starting in mid-spring, Beaver Bark carries hundreds of varieties of roses, in every imaginable shade and bloom size.
Hybrid Tea Roses
These shrubs bear large flowers that commonly grow one to a long stem and bloom continually throughout the growing season. The bush can grow quite tall, with an upright habit. They're a great choice if you like large flowers or cut flowers in the house.
Grandiflora Roses
These are upright plants with hybrid tea-type flowers. The flowers grow in clusters, with stems long enoug to cut. Grandifloras normally grow to between 3 and 6 feet tall. They're a good choice if you like lots of blooms in the garden and stems for cutting on the same plant.
Floribunda Roses
These plants have flowers that are smaller than hybrid teas and which grow in clusters on short stems. The bush is usually quite compact and blooms continually throughout the growing season. Choose floribundas if you need fairly low-growing plants that produce great numbers of colorful flowers.
Miniature Roses
Extremely popular miniatures are between 6 and 36″ tall, with their leaves and flowers in perfect proportion. They are hardier in cold climates than larger roses. Most mini varieties bloom profusely throughout the growing season and are a great choice for lots of color in a small space.
Tree Roses
With an adorable lollipop shape, tree roses are upright tree trunks grafted to a round-shaped rose bush. They're wonderful either in the ground or in containers, and make a great entryway statement.
Climbing Roses
Climbing roses can add wonderful vertical interest to your garden. They can be trained along fences, arbors, against walls and even used as a sprawling ground cover, and offer an amazing amount of smaller blooms in a lovely, tangled way. We carry some gorgeous varieties to dress up your garden!