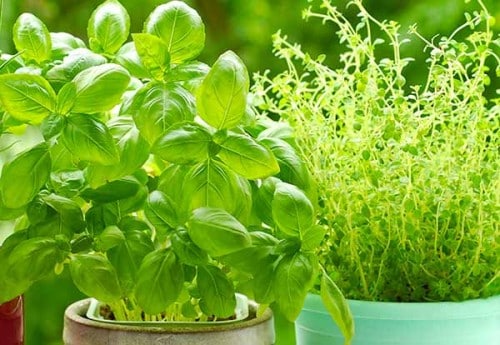 Many things come to mind when we think of growing and using herbs. For example, the scent of rosemary growing in the garden, the warm comfort from a steaming hot cup of mint tea, the relaxation of an aromatic bath with lavender, or the taste of fresh oregano and garlic in a pot of tomato sauce.
Growing your own herb garden is so gratifying when you can go outside and cut rosemary and thyme from your own garden to add to your chicken, or pick from several exceptional mints on hand to make your mojito shine.
Want some organic choices? We've got you covered. Our herb plants show up early spring, and are available through fall. Indoor herbs can be started any time at all with seeds, planting soil, a pot, and a windowsill, and we can set you up for that too.
In Or Out?
Whether you choose to grow inside or out, all herbs need plenty of sunlight, moderate temperatures, and a soil or potting mix that drains well. Growing in containers gives you the option to have it both ways. You can have the outside garden benefits when it's warm, and bring them in to overwinter.
Make 'Em Strong!
Herbs are pretty hardy, but sometimes you just need to get rid of those pesky things that will hurt your crop, like disease and bugs. We offer solutions to those problems if they arise. Your outside herb garden won't need much fertilizer (although it never hurts to throw some organic nutrients in your plants' direction) but herbs grown in containers will require a bit of extra care. Ask us what works best with edible plants.
The Kindest Cut
Picking herbs is easy! Basically, you snip off what you want and that's it. If it's the leaves you want, harvest them before the plant flowers. Prune regularly so your plant doesn't get "leggy". Cut flowering herbs before the flowers are fully open. If it is the roots you're after, dig them up at the end of summer or early autumn.
Keep 'Em For Later
Storing herbs after the growing season keeps your bounty going and going. Drying or freezing will allow you to continue to benefit from your hard work, and it'll save you bunches of money on store-bought herbs. Either method gives you great results.